VIGMA in "Inside Pool " Magazine
Publication: Inside Pool Magazine

Date: October 2003

Section: Industry link
__________________________________________________________________________________________
VIGMA - Not only Billiard Balls, They're Masterpieces !
Do you want to play a billiard game with your favorable color photos on the billiard balls? Imagine each ball having different pictures of the Hollywood celebrities like Madonna, Britney Spears, Brad Pitt, and Tom Cruise. How about your favorable scene pictures? Your family portraits? Or different breeds of dogs? Your playmates will be surprised with the custom-made color photo-quality images inlaid on the ball. Only VIGMA can make it come true!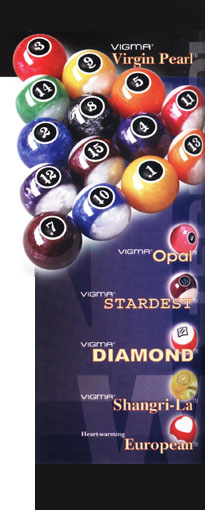 Custom Designs are Welcomed.
In the Billiard Congress of America Expo held in Las Vegas this July, there was a modern and cyber-looking booth that attracted hundreds of buyers and game players. The responses from the buyers and other visitors were overwhelming. The visitors were excited, not only because a large variety of billiard balls were introduced in this exceptional booth, but also because they found out more about VIGMA.

VIGMA Means Stylish

Being the craftsman of billiard balls, VIGMA is well known for its highly sophisticated, top-to-the-line, and affordably priced balls. VIGMA not only produces professional balls in traditional solid colors but also in a large variety of styles. Billiard balls are not simply an accessory, as most people think. They are critical and essential to playing your best pool. It is definitely worth it to have sets of top-quality, stylish balls to play with and to enjoy. Stanley Ng, the business development manager of VIGMA, commented, "Inspiration of designs is everywhere. We get the idea from sparkling jewels and introduce VIGMA Opal and VIGMA Virgin Pearl to our lady customers. VIGMA Diamond and VIGMA Silver Ring give customers alternative options for traditional circle outer ring designs. We even have heart-warming European designs for those romantic couple players. There's always a style that fits you.

We are not just manufacturing billiards balls, we are crafting masterpieces!" Besides billiard balls, there are also carom sets and Russian deluxe, and extensive ranges of ball sizes are available.

VIGMA takes every detail into consideration, from the quality and styles of the balls to the impressive packaging designs. All VIGMA ball sets come in durable carton boxes that ensure the balls are well protected and organized, no matter at home or in game rooms. Even the covers of the boxes are specially designed with eye-catching graphics for each ball style. The VIGMA Grand Leather Box is a premiere option for the customers. The leather boxes are made with good quality in a variety of colors. To add on the luxurious of the VIGMA Grand Leather Box, velour is selected to be the interior material to provide supreme protection for the balls.

Customization - Be Unique

"Innovation is important in the billiard ball industry. You need to keep improving and move forward to survive in this industry," Ng claimed. VIGMA employs professional chemists and engineers to lead the Research and Development Team in product developments. In addition, VIGMA invests in R & D over the years and is the first company of its kind to apply the latest Heat Transfer Dye (HTD) technology in
billiard balls. The HTD application is highly specialized, requiring sophisticated equipment and advanced technology in chemical engineering. HTD can transfer full color, photo-quality images onto VIGMA products. "HTD is the only available technology to allow clear, sharp, and permanent images in the billiard balls. The use of HTD technology is just an illustration of VIGMA's commitment in crafting the best-quality, stylish billiard balls," Ng continued.
Why be satisfied with what you have when you could incorporate your own designs on the balls? VIGMA is aware of the different tastes or styles each customer might have, which is why they provide customization. With the latest exclusive HTD technology, designs or images provided by customers can be imprinted onto the billiard balls without fading. Each ball can have individual picture of customers' choice. "Don't let your imagination die, let VIGMA incarnate it into a work of art! Give us your design and we will make it real. You can match VIGMA with your pool table, home decor, and even your personality," Ng said.
Kobo Resin, an exclusive material used in VIGMA products, is also good for making corporate gifts like paper weights, desktop ornaments, keychains, and even trophies. VIGMA can imprint your company logo on the products. "By presenting unique VIGMA-made corporate gifts, your company's prestige would rise," Ng said.
VIGMA = Perfection = Satisfaction
Committed to having complete satisfaction from their customers, the leaders in VIGMA believe that innovative new technology and continuously designing new styles will meet the customers' ever-changing demands. Ng emphasized, "VIGMA means perfect and stylish billiard balls. With our extensive experiences and exposures, we offer a complete line of traditional, contemporary, and commercial billiard balls that can satisfy the needs of different customers."
VIGMA claims to be the best in billiard balls. The balls possess the accurate weight, precisely balanced density, perfect rebound, flawless surface polish, vibrant colors, excellent brilliance, and extreme hardness. Strict quality control is essential for VIGMA products to be perfect. Every stage of production, from developing the raw materials to polishing the final products, is closely monitored. Durability is one of the most important quality criteria fro commercial game room ownwes to consider, and the extreme hardness of the Kobo Resin allows VIGMA balls to be at least twice as scratch-resistant as other balls. Choosing VIGMA could reduce the likelihood of getting burn spots on both the balls and the cloth. Hence, this could dramatically lower the costs of replacement and repair.
Research and development on both the equipment and materials have been invested over the years in VIGMA, and the raw material is specially formulated to ensure their outstanding qualit. "All VIGMA balls are made of exclusive Kobo Resin," said Ng. Most billiard balls are made of a kind of synthetic substance called Thermal Setting Resin. "For VIGMA, a special Germany/U.S.A.-imported additive is incorporated into our
<VIGMA Grand Leather Box / Modish Box Set / Transparent blister pack for individual balls>

VIGMA Virgin Pearl

VIGMA Shangri-La

VIGMA Diamond

Kobo Resin. Besides having the characteristic of high tolerance of breaking force, this chemical substance allows VIGMA balls to be more outstanding than ones from other brand name," Ng supplemented. With special microstructure formulation and advanced technology, VIGMA is able to produce completely stabilized material with homogeneous density dispersion within each billiard ball. Uniform density gives the balls perfect equilibrium when rolling and increases the accuracy of each shot. "The Kobo Resin used in
VIGMA balls allows the players to have total control of the balls in speed, direction, spin, impact, and rebound," Ng explained.
In addition, every single VIGMA ball undergoes a series of inspections and is quality-checked before every shipment to ensure that the diameter, balance, roundness, and weight comply with both the world-class billiard standards and those listed by the Billiard Congress of America. In order to have better control, every set of balls has its serial number, making the details of the manufaturing traceable. It provides customers with confidence that VIGMA balls are always guaranteed.
VIGMA not only provides the best quality balls for players to enjoy but also provides assistance in helping their customers enjoy the purchasing process. VIGMA specially designs the points-of-purchase (POP) display to assist their customers in choosing suitable ball sets in fitting their needs and tastes. Eye-catching and trendy photo catalogues are distributed worldwide and are updated periodically with new styles and designs. For distributors, VIGMA has established a comprehensive logistic distribution system. VIGMA's website provides detailed product information, and their Automatic Ordering System (AOS) allows distributors to order products online. Product information package, POP displays, and ball sets are then provided in a timely fashion. VIGMA believes that the complete satisfaction of pool players and buyers leads to success, and that is why VIGMA puts effort in innovating both new products and new marketing programs.
Path Towards Industry Leader
There is intense competition in the billiard ball industry, and there is pressure to keep improving both the quality and value of the products. VIGMA emphasizes providing the best quality and most stylish balls to pool players and has introducted some exclusive styles to fit those stylish, leisure players. "There are more and more young billiard players, and VIGMA designed new styles like VIGMA Opal, VIGMA Virgin Pearl, and VIGMA Shangri-La to fit their trendy, energetic, and young characteristics," Ng explained. There are also styles like Professional VIGMA Premiere Balls and VIGMA Platinum Balls for traditionalists.
VIGMA in the Future
In recent years, people have been spending more time at home enjoying their family life, and they are willing to spend money on decorating their home for comfort. Hence, there is an increasing demand for the in-home family entertainment where playing pool is one of the most favorable ones. This leads to the expanding of the billiard ball marketing, and there are lots of opportunities in this industry. The market is growing enormously as playing pool is becoming more and more popular, not only for the adults and in western countries, but also for the teenagers and family and in countries among the world. What should you look for in the future from VIGMA? Ng replied, "For those who are players already, VIGMA could sure lift their enthusiasm to play more. We would keep to our commitment to continuous innovation in styles and designs, quality improvement, and offering moderately priced balls. We would like to attract more customers and look forward to engaging in a more prosperous billiard balls market. We would work towards the direction in building VIGMA as the most popular billiard balls in the world," Ng proudly said.
End